What is Respite Care?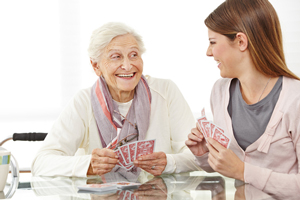 Respite means "to give rest." Our Respite Care Services are designed to give you, the parent or main caregiver a break from the daily grind. Let us assist you in receiving quality Respite Care in your home.
We provide respite care services through the Arizona Department of Economic Security and the Division of Developmental Disability. We can also provide private services for those who require quality respite care but are without state subsidies. Our respite care providers are trained and certified.
Our caregivers can handle a number of services for short-term and temporary respite care. This means giving you a break from the daily routine of caring for a child with special needs or providing for a person with disabilities. American Focus Care is capable of managing all at-home respite care services, from recreational activities to ensuring our client's safety. You can rest assured that your family member will receive the best respite care possible by our compassionate caregivers who are trained to handle all of the respite care services required.
Some of the respite care-giving services provided by American Focus Care for retirees, adults with disabilities and children with special needs include:
Ensuring Clients' Safety
Meal Preparation
Entertainment
Recreational Activities
At American Focus Care, we ensure our clients are receiving the safest and most appropriate services available. We do this with the most qualified and compassionate staff who are screened through a comprehensive background check. To provide an additional level of safety, our respite care providers are CPR/First Aid-certified, and must be able to secure a Class 1 Arizona Fingerprint Clearance Card.
Areas we service
American Focus Care is conveniently located in Phoenix, Arizona. Our respite care professionals serve all of Maricopa county including Phoenix, Cave Creek, Scottsdale, Deer Valley, Glendale, Tempe, Mesa, Gilbert, Chandler, and surrounding areas.
For more information, contact us today.