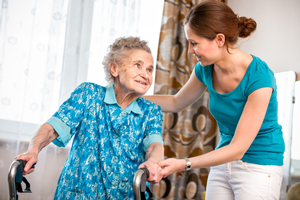 We provide habilitation care services for those individuals with developmental disabilities. We contract with the state of Arizona and the Division of Developmental Disabilities to provide high quality habilitation care in assistance to program objectives and goals. We provide safety & life skills habilitation, as well as traditional habilitation care.
In-home habilitation care helps our clients lead more productive and independent lifestyles. It increases self-worth and builds self-confidence. This increased confidence greatly enhances their quality of life with the benefits habilitation care provides.
With our habilitation care program, clients will learn lifelong skills at home, in a familiar environment conducive to learning. This also allows our client to feel both safe and comfortable.
Habilitation Care Programs
Every client has different needs. Therefore, we provide a complete assessment of each individual's needs prior to service,  and determine an individualized habilitation care service plan to provide the very best possible service for each individual client in our habilitation care program. This individualized attention enables our providers to focus on the specific skills necessary to help your family member become more independent . Our habilitation providers will provide your family member exceptional one-on-one care and therapy with the dignity and respect they deserve.
Some of the habilitation skills that American Focus Care providers teach include:
Bathing
Grooming
Hygiene
Motor Skills Development
Communication Skills Development
Organization Skills Development
Social Skills Development
Toilet Training
Feeding and Special Diet
Meal Preparation
Memory Skills Development
In home and community habilitation care services are available for those who qualify.
Areas we service
American Focus Care is conveniently located in Phoenix, Arizona. Our assisted living professionals serve all of Maricopa county including Phoenix, Cave Creek, Scottsdale, Deer Valley, Glendale, Tempe, Mesa, Gilbert, Chandler, and surrounding areas.
For more information, contact us today.