Home Care for Children With Special Needs
---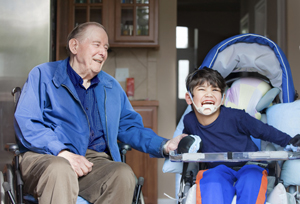 When it comes to caring for your child with special needs, no one can possibly care as much as you. The task of finding an home care provider who will take the time to understand your unique needs can be as arduous as giving birth. When choosing an assisted living agency you want to be certain that its staff will make every effort to understand your child's unique needs.
At American Focus Care we know that your child is the most important thing in your life. Therefore we hire only those employees who truly love their work and see it as a career. We do not hire assisted living caregivers who might simply show up at work to receive a paycheck. Our caregiver screening process is by far the most stringent in the valley. This ensures that when you make the decision to employ our home care services, you can rest assured that your child is in the best hands possible. Our home care staff are frequently recognized for their ability to connect with children on a personal level. Special needs caregivers take part in specialized home care training which gives them the ability to handle any child, no matter the disability, for sustained periods. Once you receive a consultation, American Focus Care will ensure that nothing is left to chance. After all, there is nothing as important as your child. That's why we give strict attention to detail so that when you have to step away you can do so with confidence and peace of mind.
Find out what makes us different. Contact us now and set an appointment to meet with one of our assisted living care professionals. We might just help you to get better night's sleep!
Areas we service
American Focus Care is conveniently located in Phoenix, Arizona. Our home care professionals serve all of Maricopa county including Phoenix, Cave Creek, Scottsdale, Deer Valley, Glendale, Tempe, Mesa, Gilbert, Chandler, and surrounding areas.