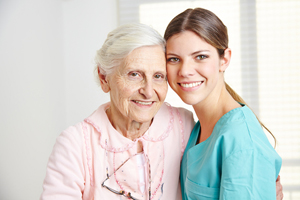 With all that we do to make ends meet — the stress, the commitments, the expense; one should not have to shoulder the entire burden of worrying about the quality of elderly home care provided to your loved ones.  The mere thought of where to find a trustworthy assisted living agency can be overwhelming for most of us.  Who do you trust? How do you know that you have found the right one when the human element of home care seems to be a thing of the past?
The elderly in our community were once self-reliant and capable individuals.  Many have taken care of entire families and sacrificed time and resources to provide a safe and nurturing environment for children and young adults.  Rarely have these seniors ever once asked "What is in it for me?", or "Who will take care of me when the time comes?".  They gave unselfishly and put their needs aside to create stability.
They deserve the same when they are no longer able to take care of themselves.  The transition to assisted living in and of itself is enough to create feelings of helplessness and severe depression.  Inactivity and the feeling of being alone can be unbearable.  And while it is a lonely and confusing time for most, it doesn't have to be.
At American Focus Care we truly understand how difficult it can be to make the right decisions when choosing home care services.  Furthermore, we understand that time is a commodity; one that most cannot afford to waste.  In a world where businesses seem to be focused on profits the task of finding the right agency can be extremely stressful.  American Focus Care and staff pride ourselves on providing a level of care that is unsurpassed in the industry since 2009.  As licensed assisted living caregivers in the State of Arizona we are an agency that takes the time to completely understand individual needs.  You will not be rushed through our system, nor will you become unimportant.  There is a human element within our organization that you should notice immediately.   We provide elderly care that is second to no other home care agency in Maricopa County, and we offer flexible service plans designed to meet all of your assisted living needs at a fair price.
Make the move today.  Let us show you why we are the best of the best and why everyone is talking about American Focus Care for quality home care.
Areas we service
American Focus Care is conveniently located in Phoenix, Arizona. Our assisted living professionals serve all of Maricopa county including Phoenix, Cave Creek, Scottsdale, Deer Valley, Glendale, Tempe, Mesa, Gilbert, Chandler, and surrounding areas.
For more information, contact us today.